the_oracle
The Ghost of Tricia Martin
April 1990


Steven Wakefield is both stunned and elated when he meets Andrea, a girl who looks, sounds, and behaves just like Tricia Martin, his first love. Tricia died just after she and Steven fell in love, but now he can almost believe she has come back to him again.
Until Andrea appeared, Steven was happily involved with Cara Walker. He still cares about her, but every time he's with Andrea, he's reminded of how much he loved Tricia. So Steven refuses to choose between the two girls- until his indecision leads to a dangerous accident that make take all his choices away!
The Ghost of Tricia Martin
isn't exactly what it says on the tin, but it's close. As we learned at the end of the last book, another Tricia doppelganger has appeared in the Valley and this one is Andrea. Apparently she looks freakishly like Tricia to the point that both Liz and Steve see the resemblance and Liz doesn't immediately decide it was just a trick of the light or something. Steve, being Steve, falls down the rabbit hole and absolutely
must
go out with Andrea.
The book opens the day after Steve and Liz meet Andrea and all three Wakefield kids are getting ready for their evenings. Liz and Todd are going out, we'll come back to Jessica for our B-plot, and Steve is getting ready for a date that Jessica thinks is with Cara and Liz suspects is with Andrea.
Naturally, Liz is right. Steve meets Andrea at La Paloma, a restaurant he used to frequent with Tricia and within the first five minutes he's already calling her by the wrong name. Andrea eventually calls him on it and Steve breaks down when asked just who Tricia was. Instead of running in the other direction once Steve admits that she's the spitting image of his ex-girlfriend, Andrea's both sympathetic and a little intrigued. She's got to be because there's no good reason to keep going out with someone who keeps calling you the wrong name, even if he is cute.
Look. I'm going to be upfront here. Steve acts like a huge jackass for 99% of the book, and the only reason I'm not saying it's 100% of the book is because I'd imagine it's got to be weird as hell when people keep showing up looking like your ex. Just weird as hell. Honestly, after re-reading this, I remember why I stopped fully shipping Cara/Steve, but we'll get to that later.
Anyway, on their date, Steve keeps pushing Andrea into situations where she could/most likely will act like Tricia. He tells her the salad is delicious and she orders it and he's thrilled. He asks if she likes walks along the beach and she does and he's all, "I knew you would." He thinks this or says it or some variation thereof so much that it's annoying as hell. I tried to keep track but my head exploded so I stopped.
Prior to going out with Andrea, Steve tries to rationalize that he has to go out with her just once to prove to himself that she might look like Tricia but she's actually nothing like her. Liz points out that this is a bad idea and if he doesn't want word getting back to Cara, instead of asking Liz not to say something to Jess, maybe he should either not do the stupid thing or talk to Cara beforehand. I have to agree with Liz here. Cara has been ridiculously understanding of the ghost in her relationship with Steve to the point that while she wouldn't be thrilled with it, I can see her giving Steve the go ahead to take Andrea out. Then again, maybe if he had done that, this whole plotline would never have happened.
Obviously, Steve ends the date convinced that Tricia has come back to him. I... what? Are you on crack, Wakefield?
Still, in a rare moment of clarity (sorta?), the next day Steve realizes that maybe he should take Cara out and let his real relationship have a chance to chase away the crazy in his head. (Fun fact: every time someone brings up Andrea's obvious Tricia similarities, Steve's reaction is to ask sarcastically if whoever is talking thinks he's crazy. ) Instead of planning something actually romantic or sweet or I dunno, not hard labor, he comes up with a hike to Castle Rock at Secca Lake. Since he was mysterious about their surprise date, Cara has worn strappy sandals and has to stop numerous times during the hike because these boots were not meant for walking, dammit.
Steve's annoyed and bitchy and really just awful as he compares Cara to the idealized version of Andrea he's already begun building in his mind. When he mentions wanting to take up hang gliding, Cara comments that it's awfully dangerous and Steve's ticked that she's not admiring his courage or some shit. He's sure that Andrea would be supportive. He's such an ass that Cara basically folds in on herself for the rest of the date and when he drops her off, she doesn't feel much better despite his weak reasoning that it's his school project that's making him so cranky.
On Steve's next date with Andrea, he's thrilled that Andrea likes the aquarium and otters, just like Tricia! Steve, otters are adorable and awesome and everyone likes them. Just like everyone likes walks along the beach. This is about as amazing as finding out that Andrea also breathes and washes her hair. But there is a problem. Andrea has the gall to wear her hair up when Tricia wore hers down and that's how Steve prefers it. The part where he takes her hair down and kind of insists she keep it that way is pretty creepy. Andrea, honey... I know he's a Wakefield, but no.
Things continue on this way, with Steve dating Andrea and not telling or even seeing Cara. Cara tries to get information from Liz and Jessica but Liz won't tell and Jessica doesn't know (or care). Eventually, while at the mall on a cheer up mission plotted by Lila of all people, Cara wanders into Unique Boutique when Andrea's working. Cara's completely gobsmacked by how much Andrea looks like Tricia and thinks she's seeing a ghost.
True story. Prior to re-reading this, I didn't remember much about it beyond "Tricia lookalike that doesn't work out for reasons." And I was thinking about something a coworker of mine said once upon a time about how it was both funny and annoying that everyone kept confusing him with every other damn redhead they'd ever met because apparently all redheads look alike. Sweet Valley definitely seems to be subscribing to this theory, at least with the strawberry blonds all being Tricia clones. (Anyone else having an
Orphan Black
moment? Just me? Okay... Still, there's a crossover I bet you weren't expecting.)
Anyway, Cara takes a closer look and realizes that Andrea isn't actually identical to Tricia, they just look a lot alike
at first.
Now this I'm a little iffy on. On the one hand, it backs up my theory that Steve thinks all strawberry blondes look alike. On the other hand, I think I like the story better if Andrea really does look
really
similar to Tricia beyond the first glance. Back to the story.
Cara immediately figures out that Steve has probably seen this girl and just as she's pondering that, the phone rings and Andrea sets up a date with a guy whose parents are fighting, who is starting hang gliding, and oh, yeah, loves the aquarium as that's there they're going after Andrea gets off the phone. Just so you don't think she's jumping to conclusions, Andrea says Steve's name and Cara runs out of the store in tears.
The next day, Cara decides she'll call Steve and let him know that she knows and that she understands because really, if anyone in the Valley gets his Tricia fixation, it's Cara freakin' Walker. Naturally the call doesn't go well and instead of whatever positive outcome Cara hoped for, she winds up getting dumped. Well. Awkward.
Steve heads out for his hang gliding session and let's just cut to the chase: because he's so caught up in his thoughts about Tricia, Andrea, and Cara, he winds up crashing into a cliff. I kid you not.
The Wakefields assemble at the hospital and Jessica calls Cara who wants to go to him but keeps repeating, brokenly, that he doesn't want her. And my heart breaks for her, honestly. When she does show up, Steve is starting to sort of come around and of course the second she steps through the door, he utters the name, "Tricia!" Cara runs off before hearing that he calls her name next. Still, the damage is done.
I think we need some B-Plot hijinks before we finish off the A-plot. Remember way back at the start of this I said all three Wakefield kids had plans and that we'd get back to Jessica? Well, she and Lila head out to a beach party in Palisades where Jessica meets a guitar playing dude named Keith. Despite not thinking him all that good looking, Jessica makes it her mission to bend him to her will.
Now, I want you to imagine later ghostwritten Dawn from the BSC. She's terribly into saving the environment and not eating meat and is generally written as a serious killjoy. Yeah, that's Keith. Only because he's a dude and older, he's meant to be 'deep' and passionate because he cares so much about all these causes. I'm not mocking his passion, really. I'm just about as interested in him as Lila is. Which is to say not at all. :P
He keeps inviting Jessica out on sort of dates where they pass out flyers about recycling or go to City Hall to hear a debate about whether the city needs a new trash incinerator or... I dunno. I think this is one of those montages that would work better on TV or in a movie, really. It works okay as it happens in the book but as a recap, meh. Jessica tries to convince him she's really into all this but really she wants him to be her kind of guy and go to the beach and party and have fun.
Eventually this leads to a movie date where Jessica flat out refuses to go see a documentary about the reindeer culture of the Lapps. While at the Valley Cinema, she sees
Tricia
Andrea on a date with a tall, dark haired boy who is most definitely not Steven considering Steve's in the hospital. Jessica notes this for future use and then, we assume, continues on her last date with Keith.
At the hospital another day, Jessica signs Steve's cast and lets it slip that oh yeah, she saw Andrea and some guy at the movies. Steve reacts the way you'd expect ("must be her brother or something") and Jess is skeptical. When Steve angrily glares out the window, he sees Andrea being dropped off... by a guy in a convertible. Before he can tell himself the brother line again, Andrea kisses the guy.
Liz witnesses the whole thing and shuffles Jessica out of the room and accuses Jessica of knowing full well what she was doing when she mentioned Andrea. Jess sort of denies it but not really, and this is probably the most consistent thing about Jessica. She's pretty much the only person who gets that Steven only really responds to tough love. It's just that Jess got lucky with Andrea showing up. When Liz mentions that, Jessica protests that she had no way of knowing and then the twins agree they need to call Cara in.
Sigh. On the one hand, they're cute when they scheme together. On the other, what if Andrea wanted to date both Steve and car guy? It's not like Steve would have a leg to stand on about it. Luckily for the twins, and Cara, when Steve confronts Andrea about the guy, Andrea points out that she found a guy who likes her for who she is. Steve tries to argue that it's really rude of her to do this to him after all they've been through and she shoots him down straight away with, "all we've been through? What? We've gone on like, five dates and you've spent the whole damn time pretending I'm your dead girlfriend. That's not a relationship." Steve tries to protest but Andrea points out that nope, he knows nothing about her because he doesn't want to know anything about her. He just wants to look at her and pretend she's Tricia and that's not what she wants to do. Steven finally admits to himself (and Andrea) that he was an ass and he apologizes, but when he asks if this is the part where they say they can always be friends, Andrea shoots that down too. She knows that Steve will never see her as Andrea and she's smart enough to walk away.
But it took you five dates and him winding up in the hospital before you could figure that out? I want to applaud this moment but the timing and the fact that she knew about the Tricia thing from date #1 is... enh.
Andrea leaves and Steve realizes what a mess he's made with Cara. He decides that he can't possibly fix it because Cara deserves better than to be his second choice.
So when Cara shows up, just to shut Jessica up, she's not sure what she's walking into but she wants to thank Steven for what time they did have and then she rips my heart out and my ability to ship this relationship dies right there in the hospital room. She tells Steve that she knows he never cared for her as much as he did Tricia and instead of denying it in any way, he focuses on the part where she says she loves him and they get back together because of course.
Cara. Cara, no. At this point you've been dating him longer than Tricia did and you've been stupidly supportive of his dumbass moments, from the French lookalike to the weird letters he thought were from a ghost and not his actual girlfriend to being willing to overlook his cheating on you with Andrea until he dumped you. WALK AWAY. YOU DESERVE BETTER.
Instead they make up and the twins are super proud of themselves and we move into the set-up for the next book.
All book long, Ned and Alice Wakefield have been fighting over the stupidest things, from the electrician (Ned, you're gonna bitch about paying the man $200 and then fork out the cost of Steven's hang gliding like it's no big deal?) to whether or not Ned should want to run for public office. The kids have each felt super uneasy about it and things come to a head at Steve's welcome home party, with Ned wanting more out of life and Alice wanting him to stop being a jackass towards her at every turn. I believe Ned is having a bit of a midlife crisis, guys. Also, for someone bitching about how he never did anything politically minded, isn't that how he freakin' met Alice? Sigh.
We're about to fall down the weird arc that involves the Wakefield parents possibly breaking up, a mayoral race, and some stuff I've long forgotten. Buckle up, buttercups, things are going to get Wakefield.
Trivial Pursuit:


Jessica takes Elizabeth's new eyeliner and Liz finds it easily in Jessica's makeup drawer. I call BS because you and I both know damn well that Jessica is messy as hell and that drawer would look like a bomb went off, especially if she'd just used it.


The Fiat died two days prior to this at school, leaving Jessica stranded after cheerleading practice. We never do find out what's wrong with it, btw.


Ned and Alice are fighting about a $200 bill from the electrician. Ned is blaming Alice for not calling one in sooner, so the little job became a big job and Alice is pissed because Ned's the one who told her it was no big deal.


Steven and Andrea go to La Paloma, a restaurant in Pacific Shores. (until my re-read, I did not realize how much Steven prefers to take his dates out of SV proper for their dates. There's an AU where he's a serial killer just waiting to happen.)


Within the first ten minutes, Steven is already calling Andrea "Tricia."


Andrea's grandfather died in a car crash.


Angie, Lila's friend from Palisades, invited Lila and Jessica to the beach party. Angie is described as a "cute, diminutive blonde with bouncy curls."


Keith, No Last Name Ever Given, is playing guitar at the beach party. He's got thick brown hair and an athletic build, and when he plays music, he's got an angry look on his face. When Jessica meets him, he's barefoot wearing a "No Nukes" t-shirt and old jeans. He goes to Palisades High and really seems to enjoy protests.


Steve keeps a picture of Tricia hidden behind his ID in his wallet.


Steve also has a picture of himself and Cara at the State Fair on his wall above his desk.


Steve refers to the events of the previous book the "Fearless Elizabeth Campaign" when flipping through a magazine she picked up then. This book also makes it sound like he just decided on going hang gliding at that moment but he was considering it at the end of The New Elizabeth so continuity be damned.


Ned and Alice were supposed to go to White Canyon for lunch Saturday, but Alice made plans to take fussy Ms. Petty (ha!) to furniture showrooms all day. Ned storms off to the office at the news.


Steve wonders to himself if Cara has always been so girly and silly but then scolds himself for being mean and says that she's merely bubbly. Later he wonders if she's too immature because she talks about parties and cheerleading. Steve, you ass.


He decides their secret date should be to hike to Castle Rock at Secca Lake. Cara is wearing white strappy sandals but doesn't change shoes before they begin.


We are denied the whole story behind Robin imitating Chrome Dome Cooper at cheerleading practice when Chrome Dome walks in and... we'll never know because Steve snaps and says that Jessica already told him the story at dinner. Dammit, Steve, this sounds way more interesting than your boring ass hike.


Every Sunday there's an orientation session for the hang gliding class.


Keith and Jessica meet at the Dairi Burger (he took the bus there and Jess borrowed Lila's car) all so they could go to Granada Estates to hand out flyers about recycling.


Cara suggests renting all the Bond movies from the video store and having a Bond-a-thon soon and Steve snaps her head off even though he loves James Bond.


Jessica throws Prince Albert's ball into the pool and he naturally dives in after it. I'm pretty sure your dog shouldn't be hanging out in the pool, Jess, but okay.


Steve and Andrea go to the aquarium on their next date.


Andrea wears her hair up and Tricia always wore hers down and Steve is creepy about this fact when he takes Andrea's hair down and then fusses when she goes to put it back up.


Andrea loves otters just like Tricia! (and me and like a billion other people on Earth.)


Andrea likes vanilla icecream but Tricia was all about chocolate.


Jessica meets Keith at City Hall for a public hearing about whether the city needs a trash incinerator which Keith is against, btw. He saves a spot for Jessica in the front row.


Keith suggests they go to Whole Earth Cafe after the public hearing.


Liz has math right before lunch.


Todd has to talk to Mr. Collins about his English paper so he just walks Liz to the cafeteria.


Jessica is a royal bitch about Cara and Steve obviously having problems and why it's so rude of them to be so public about it. And by public, I mean not being super enthused about going to the beach with her.


Lila convinces Cara to join them at the mall in an effort to cheer Cara up and this is actually really sweet. ♥


Alice's client that causes her to miss Friday dinner is Mrs. Rappaport.


Jessica thinks Andrea looks like Betty Garrett, an actress, but Lila immediately sees the Tricia connection. This means, however, that Betty is also another Tricia clone.


Cara overhears Andrea at the Unique Boutique making a date with Steve. They'll be going to the aquarium... again.


Steve's hang gliding teacher is Bart.


Cara's mother calls her cara mia and that's just super cute.


After his run in with the cliff, Steve broke his left arm, has many a cut, contusion, and possible head injuries but not a single fracture to his skull. His brain could still have been bruised, however. Brains, a mystery.


Steven's doctor is a woman named Dr. Nichols.


Given how often Jessica winds up at the hospital for something involving her siblings, you'd think she'd hate them but it's Elizabeth we hear complaining about being there yet again and wishing they'd never volunteered as candy stripers. (And nary a mention of the kidnapping.)


Jessica borrows Steve's car to take Keith to the movies.


Keith wants to see a documentary about the reindeer culture of the Lapps. Jessica wants to see a thriller about a detective who falls in love with the psycho killer. Yeah, I'd want to see that one, too.


At Valley Cinema, Jessica sees Andrea with a tall, dark haired boy who is most decidedly not Steven. Andrea, you've got a type, eh? Then again, maybe not since not!Steve drives a convertible.


When signing Steve's cast, Jessica draws a big loopy flower as she tells him about seeing Andrea on a date the night before.


Andrea says they've been out on like, five dates and they never made any promises or anything so she's free to date whomever she likes. Preferably someone who doesn't look at her and see a dead girl, probably. She also has no interest in trying to be friends since that obviously won't work.


Jessica's duffel bag for cheerleading practice is pink.


Peter Santelli, Maria's father, is the City Planning Commissioner and he's running for mayor.


Quotes:
"Why don't those Brazilian people just stop cutting the trees down?" she asked out loud. "It's simple- just make them stop." - Jessica saves the rainforests! pg 49
"Well, for starters, my parents are turning into total workaholics. They both work all the time, and I'm the one who gets stuck having to do everything at home. Cook dinner, do the laundry, wait around for the electrician, stuff like that. It's like I'm the only responsible one in this whole family." She closed her eyes in self-pity. "It's just not fair." - Saint Jessica, the put-upon. pg 51
"Ned, I just want him to know how I feel about it."
"No, what you want is to make him feel guilty about worrying you and not do it," Mr. Wakefield replied. - Ned aint wrong, Alice. pg 59
"Why would you want to take a good look anyway?" Lila said snottily. "She's just a sales clerk."
"Really," Jessica agreed. - Cara, why do you hang out with these girls? And also, so Lila. pg 85/86
Jessica was torn between boredom and interest. On one hand, Keith was so sincere and passionate about the issues that she couldn't help feeling attracted to him. But on the other hand, she only wished he could be passionate about something besides garbage- her for instance. - pg 65
"Do you think we could go somewhere afterwards? To get something to eat?"
"Sure, how about Whole Earth Cafe?"
Ugh, Jessica said to herself.
"What do they serve?" she asked, leaning close enough to whisper in his ear. She noticed the way his dark hair curled just behind his ear.
Keith turned to look at her. Their eyes met, and even though they were in a room full of people, Jessica thought it was very romantic. His lips parted. "They have natural vegetable juices and mineral water," he said huskily. - pg 65/66 I died at this part, btw. Just lost it. Well done, ghosty. Well done.
"If you want to talk about it, you know where to go." He grinned. "To Enid." - Todd, teasing Elizabeth and honestly this little exchange is one of my favorite bits. When T/L work, they really work. pg 69
"Steve- I just wanted to tell you something. I know you'll always love Tricia, and I know I never meant as much to you as she did," she said. "But I want you to know, our relationship was wonderful while it lasted and I'll always remember you. You'll always be special to me." - Cara breaks my heart, pg 137/138
"What if Steven's decided to swear off women for the rest of his life?" - Jessica takes a moment to glimpse the future of SVC, pg 140. I snorted at this most inelegantly, btw.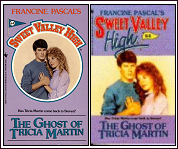 Huh. I thought I was going to enjoy this book more than I did. I think part of it was just how awful Steven was the whole damn book. He was an ass to everyone, really. He wants Liz to keep his secret, he wants to cheat on Cara but flips out if someone calls it that, he's a dick to Cara when he does talk to her, he's a jerk to Andrea... really, Steve's a jackass. And I could have been more forgiving if we'd spent less time on "Tricia's come back to me!" and more on the emotion behind it. Seriously, even with this not being the first look alike to come Steven's way, it still would have been more interesting to get deeper than "she likes otters and beach walks, yay!"
He's so willing to throw Cara over for a Tricia lookalike that even in the hospital, he's thinking about
Tricia
Andrea and not about what a dumbass he was. And Cara forgives him, which sets a terrible precedent for anyone reading this book at a young age. Seriously, demand better.
The Jessica subplot is amusing enough as it happens, but only because not for a second do you see it working the way Jessica wants or even how it might've earlier in the series. It's funny because Jessica can't see how just far off the mark she is. However, she does demand better and I like how she's just not into it at all by the end. Keith Noname isn't worth the effort and she moves on.
Liz probably has my favorite moments because they're less wacky hijinks or stupidity based and more realistic. How do you react when your parents are fighting more and more? What do you do when you've agreed not to say anything about your cheating brother to his girlfriend but you still like her? What about when you realize your family has clocked way too much time in the local hospital?